Work goes on to help victims
It's tough to get aid to the victims of the earthquake in Haiti for various reasons: roads cut and collapsed bridges make it very tough to get through to the areas affected.
Gangs and storms
Gangs all around the capital, Port de Prince, and in the areas worst affected, Jeremies y Les Cayes, add an extra layer of difficulty. Additionally, Storm Grace hit the South-West immediately after the earthquake.
In spite of all these difficulties, your donations from NPH UK are getting through, via our local organization, NPH Haiti, and also the related organization, St. Luke Foundation for Haiti.
Short- and long-term support
We have managed to get through by road and sea to the worst-affected areas in the South-West. NPH is providing medical care to the sick and injured and is delivering water, food, shelter and psychological support.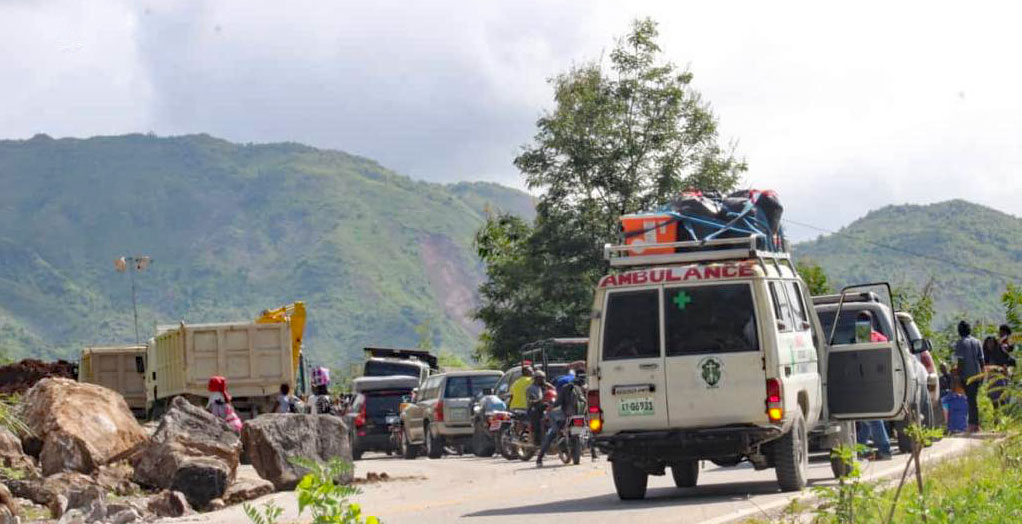 At the same time we are preparing an aid plan for the victims in the medium and long term (reconstruction of homes, planting crops and reviving the countryside as a means of sustainable support for those affected). NPH has been offering care to those we have encountered on route, as well as those in the worst-affected areas.
The Haitians are accustomed to suffering and to keeping their spirits up, but they really need our help in the face of this new humanitarian disaster.
Local staff committed to their country
Our organizations in Haiti (NPH Haiti and the St. Luke Foundation) are staffed by trained local staff, with a very high commitment to their country and its communities. They speak the local languages, French and creole, which is essential for doing their work and showing their compassion with those in need.
NPH has the necessary experience on the ground: 35 years developing education, health and nutrition programmes, as well as our involvement in humanitarian emergencies. We help to improve the lives of more than 100,000 Haitians every year.
Aid delivered directly by NPH
Donations received from our supporters are managed directly by NPH Haiti and the St. Luke Foundation for Haiti, allowing us to ensure their efficient and effective use in improving and saving lives.
Thank you for your commitment
We are grateful for your support. Don't forget Haiti.
And, please, keep the donations coming.