A rewarding experience for everyone
NPH offers the unique opportunity for young people and adults to have a very rewarding life experience spending up to two weeks at an NPH home and taking part in daily life there. This programme is the best way to join the very special NPH family and see first-hand our work through activities such as contributing to the running of the home, helping at the on-site kindergarten and school, taking part in creative, sports and vocational workshops, participating in community projects and excursions, and enjoying parties and free time with the children.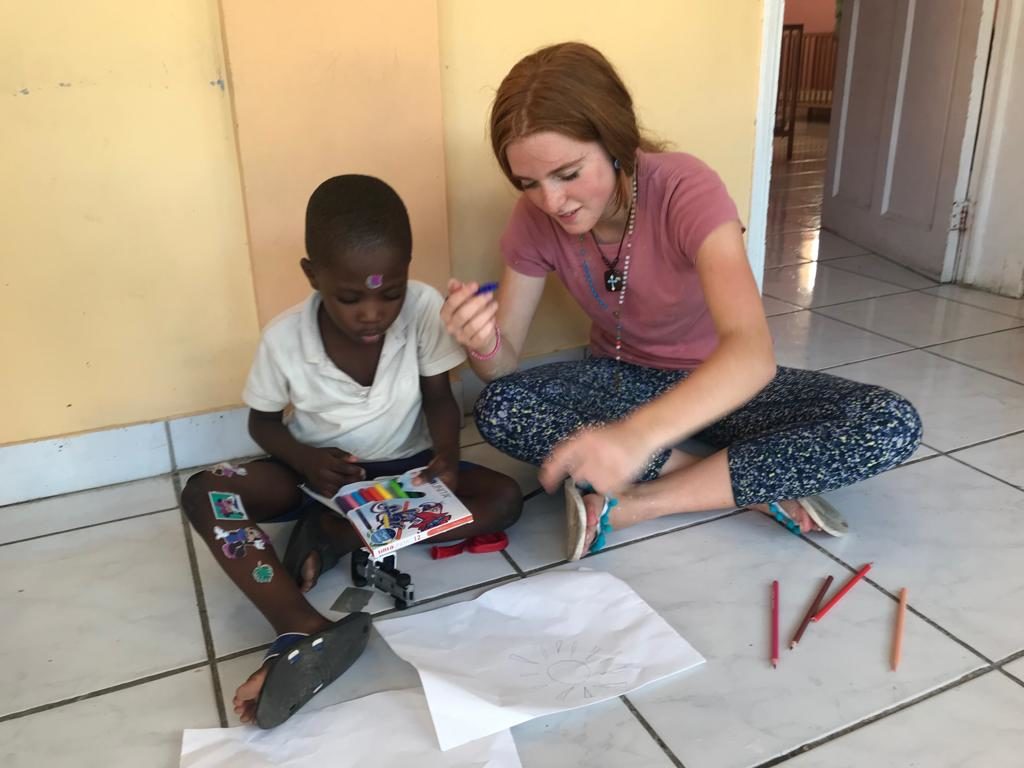 A typical day at a Service Camp
Morning: take part in activities that help the home to run (cooking lunch for everyone, planting crops in the field, maintaining the gardens, painting buildings etc.)
Lunch with the children
Afternoon: take part in workshops with the children such as singing, traditional dance, baking, carpentry, sewing, sports, etc.
Dinner with the children
Evening: sharing the daily experience with fellow participants and leaders and free time
Special activities
Service camps also offer the chance to go on excursions with the older children and staff to places of cultural interest and beauty. This enables participants to experience the country and its reality and spend leisure time with the children. There are also opportunities to take part in local service projects (at hospitals, slums, community kitchens, homes for the elderly etc.). Special parties are organised for the children too where participants make dinner for them and everyone enjoys socialising together.
Service Camp leaders
Our service camps are always accompanied by a minimum of 2 leaders who not only act as logistical chaperones but also:
to assure NPH rules are respected
to coordinate the camp activities in the NPH home and the surrounding communities together with the local visitor coordinator
to act as a moral guide to those who take part in the camp, helping them to understand NPH values
Benefits of Service Camps
You join the NPH family, learn more about our mission and values and see how we transform lives.
You have an intense, inspiring experience that will enhance your personal growth as you gain an understanding of realities very different to your own.
You contribute to the work we do by offering your time and enthusiasm.
You build strong relationships with the children, local staff and volunteers throughout your stay.
You meet other like-minded people who support NPH.
The children learn from the kindness and enthusiasm of participants and meet people from different cultures.
The children see how much people care about them by choosing to travel across the world to spend time with them.
NPH gains ambassadors who go on to champion our work, sponsor children and continue to support our mission to transform lives.
Who can join a Service Camp?
Anyone can join the camp:
University students
High school students
Families
Supporters
Companies that are interested in organizing corporate social responsibility voluntary activities for their staff.
Requirements
Minimum age 14 years old (or if you are younger than 14 you must be accompanied by an adult)
Haiti, minimum age 18 years old (or accompanied by an adult)
Love children and enjoy hard work!
Be flexible, communicative and open to new experiences
Be respectful of the culture of the country in which you're staying
Respect the NPH International visitor policy, NPH home and service camp rules
Be available for 1 to 2 weeks depending on the length of the service camp
Participate in the orientation sessions prior to departure
Fundraising for NPH children
NPH UK doesn't profit from our service camps, as fees only cover the running costs. We aim to raise awareness among participants about the possibility of becoming ambassadors and supporters of our children through fundraising activities. This will enable us continue changing the children's lives. During the orientation meeting held before the service camp, we will inform you about our projects and give you the necessary tools and information. This way, participants can become NPH supporters even before departure.
Typical Service Camp costs
These may vary slightly depending on the country.
Return airfare
£40 per night for room and board
£300 for registration which includes: preparation and orientation meetings, local transfer to and from the airport in the NPH country, local assistance, group guide, NPH T-shirt, administrative costs. This cost is non-refundable.
Travel insurance (including medical, repatriation and civil liability towards third parties)
Excursion costs (approximately £200)
Passport and visa costs (as needed)
Recommended vaccinations
Personal costs
Health and safety
We strongly recommend you consult your GP or travel clinic to find out the recommended vaccinations and malaria prevention advice before travel.
We suggest as a minimum requirement to have up-to-date vaccinations against tetanus and hepatitis A and B.
Please also check country requirements regarding yellow fever. For example, in some countries a valid certificate of vaccination is required for participants who have travelled within 6 months to other countries where yellow fever is present.
NPH ensures the same safety inside our homes that we guarantee to the children living in our care.
The occasional excursions are always guided, but it is important to know that in the countries where we work, security conditions are different to those in the UK and can be volatile. It is therefore essential to follow the camp rules and always respect the leaders' directions. The Foreign and Commonwealth Office provides regularly updated country information and advice.
During the camp it is forbidden to leave the home unaccompanied by a leader. It is strongly discouraged (and in Haiti forbidden) to display wallets and other items of value (including smart phones) in the street during excursions.
Haiti: the safety situation is precarious and unpredictable; there are a high number of violent crimes and demonstrations can often turn violent. We will cancel camps if we have official and local advice that it is not advisable to travel.
How to apply
NPH UK service camps are a rewarding and meaningful way to spend your summer, Easter, Christmas and half-term holidays. If you are open-minded, kind-hearted, love children and can spare a short period of time to participate, service camps would be a great experience for you.
Currently at NPH UK, we are organising camps once a year in partnership with NPH Italy. For more information about the next available camp, please complete the form below. Please be aware that service camps are organised for a minimum of 8 participants. Demand is often very high, so book early to avoid disappointment.
I'd like to know more about NPH service camps
Just complete the form and we'll be in touch. You can use the message field for any queries you may have. Otherwise leave it empty.